1.
Chetan Gandhi:-
Mr. Chetan Gandhi, is having an experience about two decades in International and Indian market in Legal, Secretarial ,Compliance, Arbitration,
Training and Personnel functions in diverse industry segments including Financial, Manufacturing, Trading and Service. He has been associated with NSDL, Future Capital, Edelweiss, Barclays ,Bahrain Financial Exchange, Danaher Motion, Navnit Group across different industries heading different departments like Secretarial, Legal, Compliance and HR. He has studied Master of Laws from Mumbai University with specialization in Commercial Laws, diploma in Information Technology Laws from Asian school of Cyber Laws and is a member of Institute of Company Secretaries of India. 2.
Shailesh Parmar:-
Mr. Shailesh Parmar, an Associate have worked since last 22 years under various fields and various learned persons which have helped him build dedicated and qualified professional experience to offer entire gamut of professional services to various clients.
Mr. Parmar attributes his knowledge and versatile industry experience in the field of audit including concurrent audit, bank audit, statutory and tax audits and systems review. He also offers advisory services on accounting systems, accounting principles, etc. and their conformity with the Accounting Standards. He has been tax planner and tax consultant of various corporate groups and individual clients. He has successfully handled various search and seizure cases and has been appearing before Income-tax authorities including appellate authorities, ITAT and ITSC. He has successfully handled settlement petition which includes drafting of petition, assisting in the pleading before the Hon'ble Settlement Commission.Mr. Parmar a fellow member of the Institute of Chartered Accountants of India and DISA qualified. He has successfully completed first batch training of IFRS certificate course conducted by the ICAI. 3.
H.Kumar Vaidyanathan:-
Mr. H. Kumar Vaidyanathan, an Associate is having an experience of more than 20 years in handling service matters, consumer cases, in different industries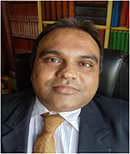 including Banking, Aviation, IT, entertainment, educational institutes, clubs along with other Manufacturing, Trading and Service sectors. He is specialised in handling litigations at different Courts such as Labour and Industrial Tribunals, School Tribunals, University and College Tribunals, all levels of the Consumer Forums and Bombay High Court. He has counseled and worked for Bharat Aviation (P) Ltd., Shalimar Exports, Det Norske Veritas, Vivek Education Society, a Trust running School & College, Bombay Malayalee Samajam (Trust) Dopson Pharma (P) Ltd, Apna Sahakari Bank, Oriental Bank of Commerce, Indian Overseas Bank, Bolt Master (P) Ltd., Air India, Pan Paryatan (Essel World), Mumbai Diamonds Merchants Association Pradeep Metals, Paper Products.Mr. Vaidyanathan has studied Bachelor of Laws from Mumbai University with specialization in Labour Laws and is a member of Bar Council of Maharashtra and Goa.